Children deserve love, empathy, security, the enjoyment of childhood, and the freedom to develop their own
identity. A parent's task is not to shame, terrify, and mold their child into submission and silence.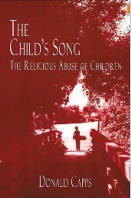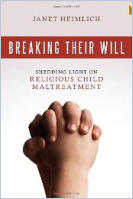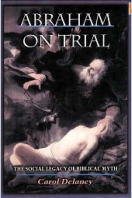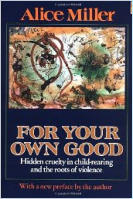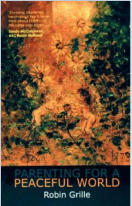 In

The Child's Song: The Religious Abuse of Children

(1995), Dr. Donald Capps, once Princeton
Theological Seminary's Professor of Pastoral Theology, explores 4th Century St. Augustine of Hippo's
abuse as a child, the psychological signs of abuse in the content and style of the New Testament book of
Hebrews, the recurring Biblical theme of a child (Isaac, Jesus) obediently dying for the honor (piety or
propitiation) of the father, and the intimation of an endangered child in the Gospels' biography of Jesus.
Click this box for a review of chapters 2-6, which offer Dr. Capp's most profound insights.
In the heartbreaking appeal for the repressively silenced and pacified child that is

For Your Own Good:
Hidden Cruelty in Child-Rearing and the Roots of Violence

, Dr. Alice Miller summarizes two centuries of
cruel child-rearing guidance ("Poisonous Pedagogy") and the "

war of annihilation against the self

" that
childhood abuse produced in three individuals, including -- most prominently -- Adolf Hitler.

Click this box
for more on Dr. Miller's book.
"To take the child's side unequivocally against the child's tormentors is to regain one's soul,
and to witness in behalf of the child in others is to participate in the reclamation of their souls as well."
Dr. Donald Capps, Professor of Pastoral Theology, Princeton University


In

Parenting for a Peaceful World

(2010 Kindle edition), Australian psychoanalyst and psychologist Robin
Grille summarizes a chilling history of two millenia of socially accepted and religiously justified child abuse in
the West, its pathological impact on a child's personality and emotional development and on society at large,
and society's painfully gradual evolution from authoritarian toward more empathetic parenting. "Much of the
history of childhood in the west is a hellish tale of widespread neglect and abuse, and the further back into
history we look, the more brutally we see children treated, with abusive practices institutionalized or
embedded in cultural and religious rites." (p4)

In

Breaking Their Will: Shedding Light on Religious Child Maltreatment

(2011), journalist Janet Heimlich
explores the harm inflicted by authoritarian religious cultures. "Christians have followed a centuries-old
path," Heimlich writes, "of viewing children in a loathsome light--a path paved with ideas about sinfulness."
Heimlich documents how conservative evangelicals have sustained this skeptical, "almost fearful," view of
children, evangelicals' avid defense of corporal punishment, and their oppressive obsession with child
obedience and sinfulness. A quarter of the book explores the phenomena of religious emotional and
psychological abuse and intellectual suppression through religious spurning (shaming) and terror. The
last half of the book addresses sexual abuse and religiously-motivated medical neglect.

In

Abraham on Trial: The Social Legacy of Biblical Myth

(1998), Stanford anthropologist Dr. Carol Delaney
offers a feminist critique of the Genesis 22 narrative of Abraham's faithfully obedient near-sacrifice of his
son and the idealization of that narrative in each of the three major monotheistic traditions (Judaism,
Christianity, and Islam). "Why," Dr. Delaney asks, "must loyalty to God be proven at the expense of one's
child rather than expressed

through

one's love and care for one's family and fellows?" (p118). Noting the
absence of Sarah's knowledge or consent in the narrative, Dr. Delaney argues that its idealization played a
significant role in undergirding patriarchy and society's assumption of the father's ultimate authority in the
family.